Accreditations & Memberships
OxCAM Engineering Arc:
We are founder members of OxCAM Engineering Arc, a collaboration partnership which results in the aggregation of complementary skills and resources between three engineering companies. OxCAM Engineering Arc partners offer a wide range of multidisciplinary engineering expertise. Our collaboration makes us stronger, and able to deliver highly cost-effective solutions for clients while maintaining our independence and objective contribution to the success of each project.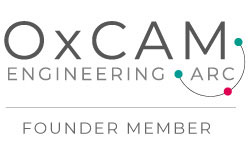 Oxfordshire Greentech:
We are associate founders of Oxfordshire Greentech, a business network supporting the growth of the low-carbon sector in Oxfordshire, United Kingdom. The organisation brings businesses together to encourage innovation, collaboration and knowledge transfer with the objective of facilitating the transition towards a sustainable, low carbon future in Oxfordshire and the world.